Our Story
Why choose the Neighborhood Bistro?
…Because Jobs Change Lives!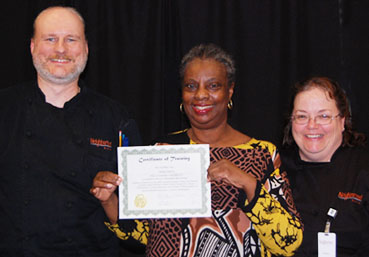 Choosing to hire the Neighborhood Bistro for your catering needs directly impacts the lives of individuals in our community. Every dollar you spend supports Goodwill of the Olympics & Rainier Region's mission to put people to work! The Neighborhood Bistro houses the Culinary Skills training program – a program designed to teach essential job skills such as food safety and sanitation, food preparation and customer service.
The program changes lives by providing people with barriers to employment the opportunity to learn skills to help them go to work. Graduates are equipped with experience to enter the workforce in the restaurant/food service industry.
OUR TEAM
Chef, Program Manager, Jeff Pratt has 20-years of food industry experience, including high end restaurants, catering, and commercial kitchens. He is recognized for his passion for teaching others his craft and assuring quality control and curriculum integrity for teaching all aspects necessary for entry-level food service positions.  Chef Pratt is also a certified trainer for ServeSafe (National Food Safety & Sanitation Certification)
Sous Chef, Trainer, Kendra Blattenberg is the Neighborhood Bistro Sous Chef and Trainer.  She works hands on with students and is in charge of daily production.  Ms Blattenberg attended a community college culinary program in California and worked in food service, before graduating from Le Cordon Bleu College of Culinary Arts in Seattle.  She is also ServeSafe certified (National Food Safety & Sanitation Certification)
Neighborhood Bistro Catering Staff – Includes professional servers, licensed bartenders and qualified banquet captains to service your event. All hired staff have extensive experience in event set up and execution. Staff attire is all black.
Prior to coming to the Neighborhood Bistro, Paul Sims served in a variety of catering roles including as a European chef, garde-manger and chef de cuisine at several private clubs. He also worked as a sous chef for Marriott Inflight Services before opening his own company, Paul's Cuisine & Catering, Inc. in 1994. Paul believes diligence, creativity and customer service are keys to success.
COMMITMENT TO SUSTAINABILITY
As a sustainable food service provider, we strive to be a leader in the use of local and eco-friendly foods, and food service products. We encourage the use of re-usable silverware, and when necessary, utilize disposable service ware from renewable and biodegradeable sources like corn, sugarcane, potato starch and bamboo. In addition our participants learn innovative recycling, cleaning and conservation techniques.